04. 11. 2019
Nivy Station's green roof: A community relaxation zone in the heart of a commercial area
A green roof on top of Nivy Station will become an important community destination that has been missing in the neighbourhood to date. This lively public area will attract commuters, neighbours and employees, meaning higher profits and more loyal customers for retailers operating in the shopping mall. Find out more about how green roofs support shopping centres all over the world and how retailers will benefit from Nivy Station's green roof.
The Mlynské Nivy area will play a new role in Bratislava as it becomes the city's new centre. Apart from renovated infrastructure, office buildings and new opportunities, just like any other neighbourhood, it needs a space that will serve as its social ″heart″. This is precisely the role of Nivy Station, which will interconnect international bus terminal passengers, shopping mall customers, employees from nearby offices and local inhabitants.
The glue that will unite various interests and lifestyles will be an active green roof – a natural public zone that will offer customers dozens of activities, events and possibilities to join community projects. A social hub will be created where people enjoy spending a lot of time and this can be naturally linked to the business activities of the shopping centre.
Green roofs help cities and businesses
Green roofs started being designed in Western European countries and in the US in the 1960s and they have become increasingly popular. The reasons are simple: vegetation planted on the top of buildings brings about improved air quality to the city, improves the thermal and sound insulation of buildings, absorbs CO2 and produces oxygen, retains rainwater, prevents overheating and acts as a habitat for various species.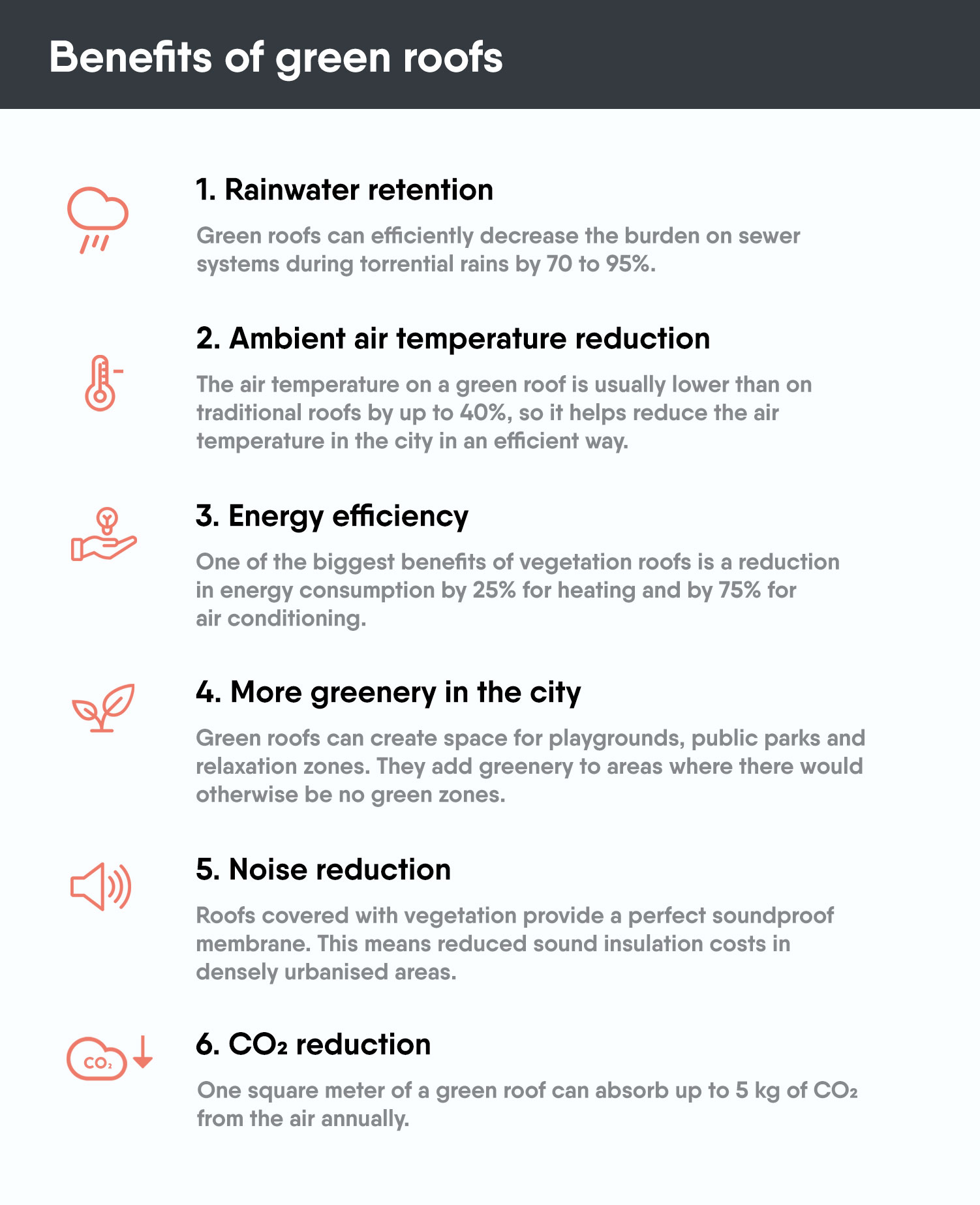 Apart from environmental benefits, green roofs have an economic and social impact: they help improve the urban environment and create savings for tenants. Several studies, analyses and experiments have shown that substrate with a thickness of 15 cm prevents heat accumulation and subsequent heat radiation in the building. Vegetation on a roof can reduce energy consumption used for indoor heating by 25% and for air conditioning by 75%, and it also works as an excellent sound membrane. This means savings of EUR 20 per m2 for sound insulation in a building located in a noisy environment, as a recent case study carried out in Helsinki has shown.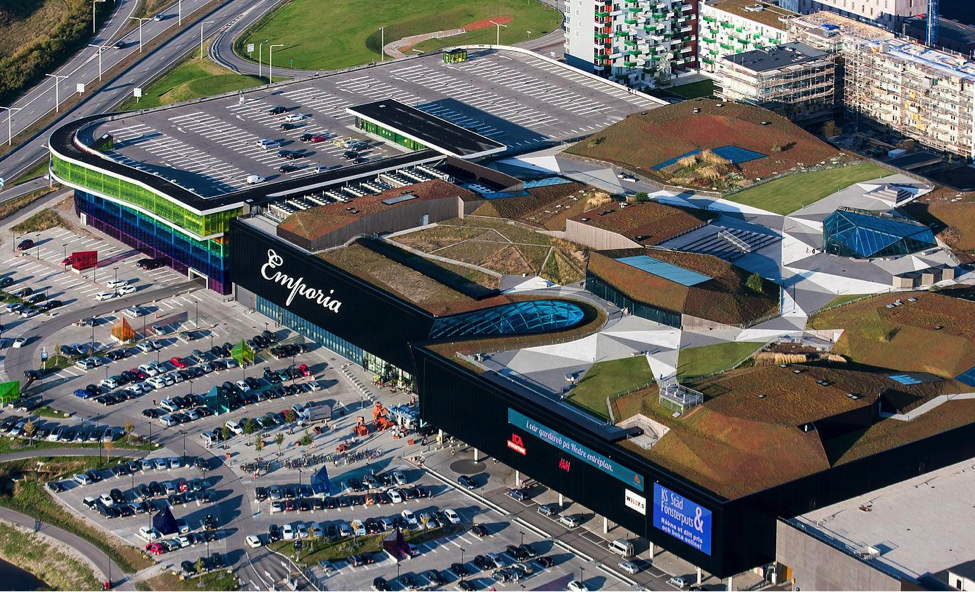 The functions of green roofs have gradually shifted from passive insulation to the creation of active spaces. From a business perspective, they become an exceptional added value that customers have been increasingly taking into consideration when making shopping decisions. According to the authors of an extensive 2014 study, shopping centres with an active green roof have a significant competitive advantage.
This is because these places are becoming community spaces where locals come to relax and they perceive the roofs as  green areas where they like to spend their time. They have a closer relationship to green roofs and thus are more loyal to the entire space. This is especially true for customers from the middle to upper classes and teenagers. The first group is sensitive to the perceived sustainability of green roofs, while the second group appreciates the communal feel and activities offered in the space.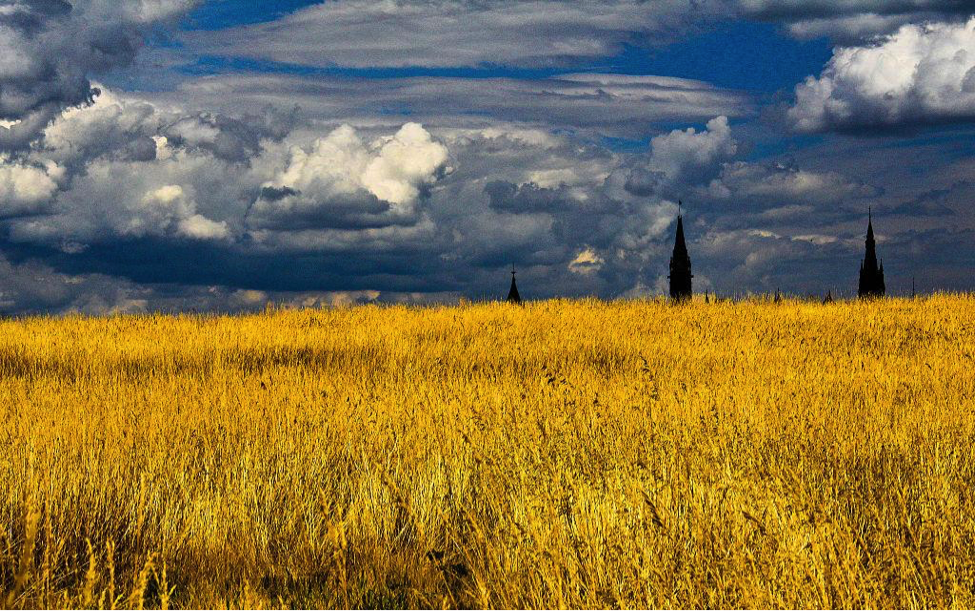 Green roofs have clear benefits for the environment, budget and retail. The roof of Nivy Station will combine all these benefits into a single functional complex. Thanks to its area, possibilities, quality and layout, it is definitely a ground-breaking project, not only in Bratislava, but in the entire country.
The green roof activates the station's floors
An easily accessible and attractive public space on the roof of Nivy Station will enrich the new neighbourhood with more greenery and, in particular, with completely new functions in a zone buzzing with employees and travellers.
In addition, it will activate the lower floors of the building, increase the number of visitors and strengthen their loyalty. Nivy Station will become a transportation hub and a shopping heart of the neighbourhood, as well as its social centre.
The green roof will be a large flexible space that will allow the shopping centre's management and tenants to organise a wide range of events year round with possibilities far exceeding traditional public and commercial projects.
Functional zones – the key to successful retail
The roof project is designed to create separate zones each with distinct functions, complementing and balancing one another. Visitors will find zones for shopping, relaxation, events, fitness, sports, leisure and community meetings.
Thanks to functional zones and general flexibility, each of the zones located on the roof may be used for the organisation of a wide range of thematic events, presentations of brands and products, as well as sales promotion events – all year round.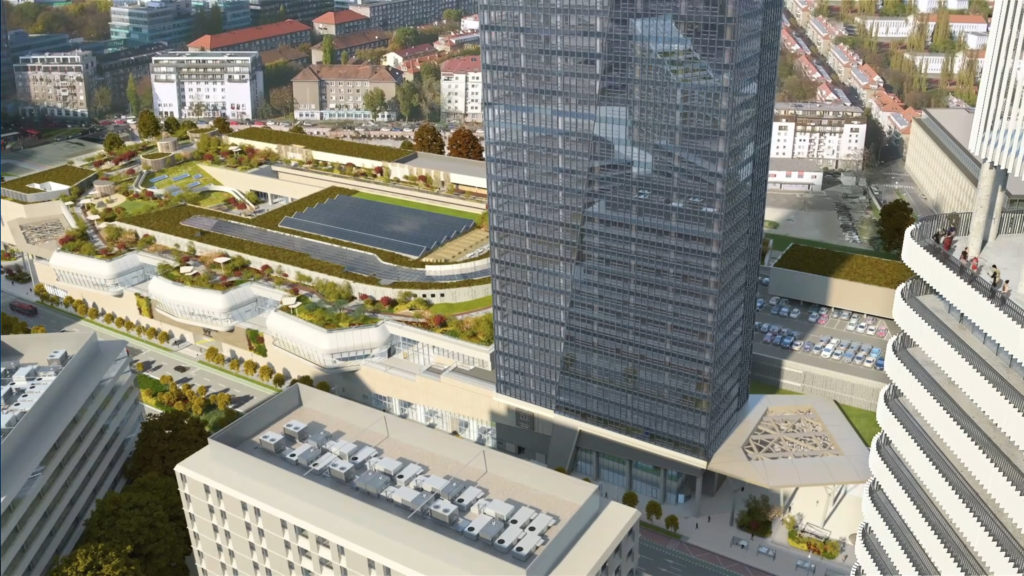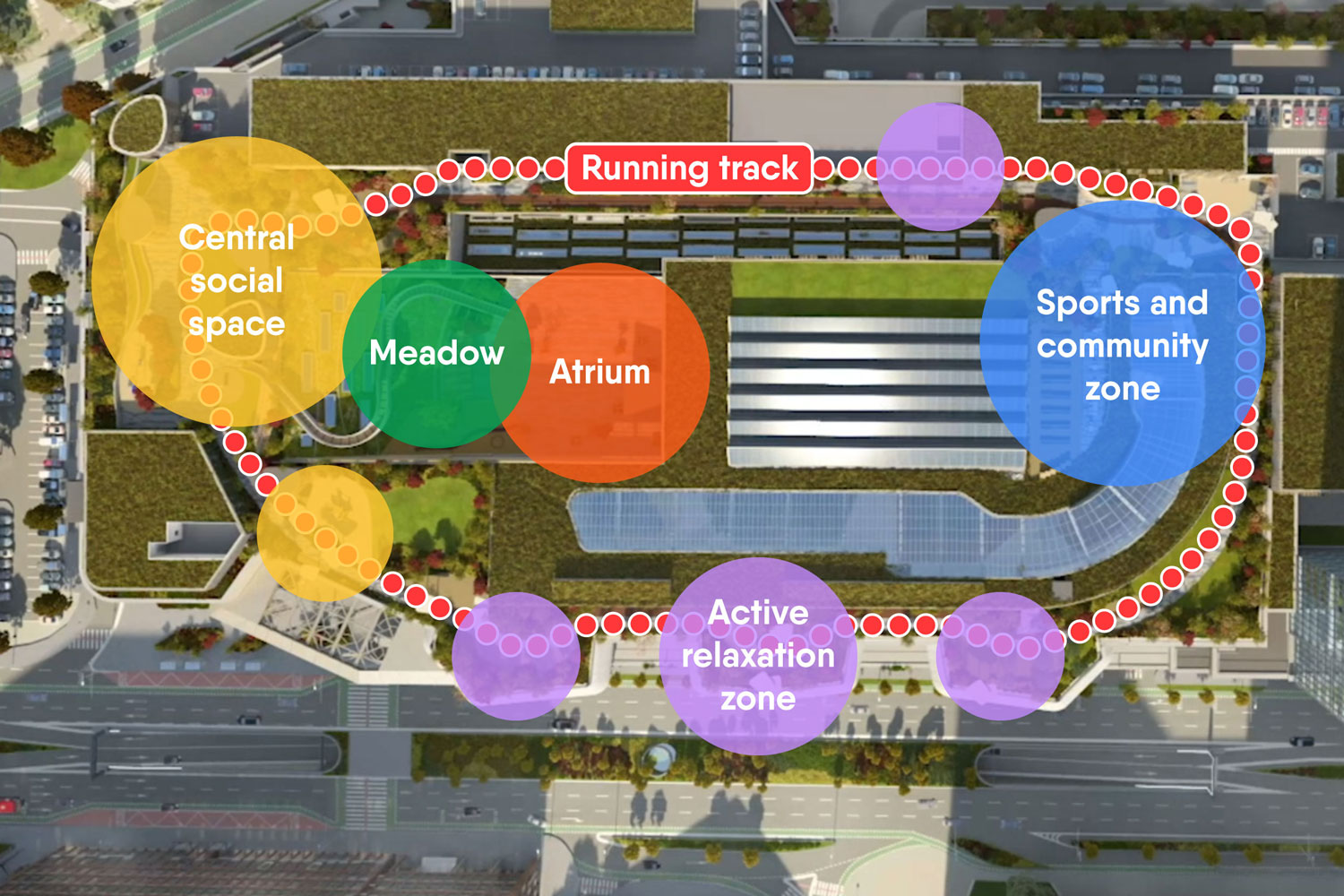 1. Atrium
It is often difficult for retailers, operation managers and event managers to find sufficiently large and well-equipped venues in Bratislava that are easily accessible for guests and clients. Nivy Station's atrium is the answer to such requirements.
The atrium will provide a large multi-purpose paved area ideal for formal and representative events for a large number of attendees. Fashion shows, concerts, artistic exhibitions and gastronomy events, such as seasonal markets or food festivals, will take place here.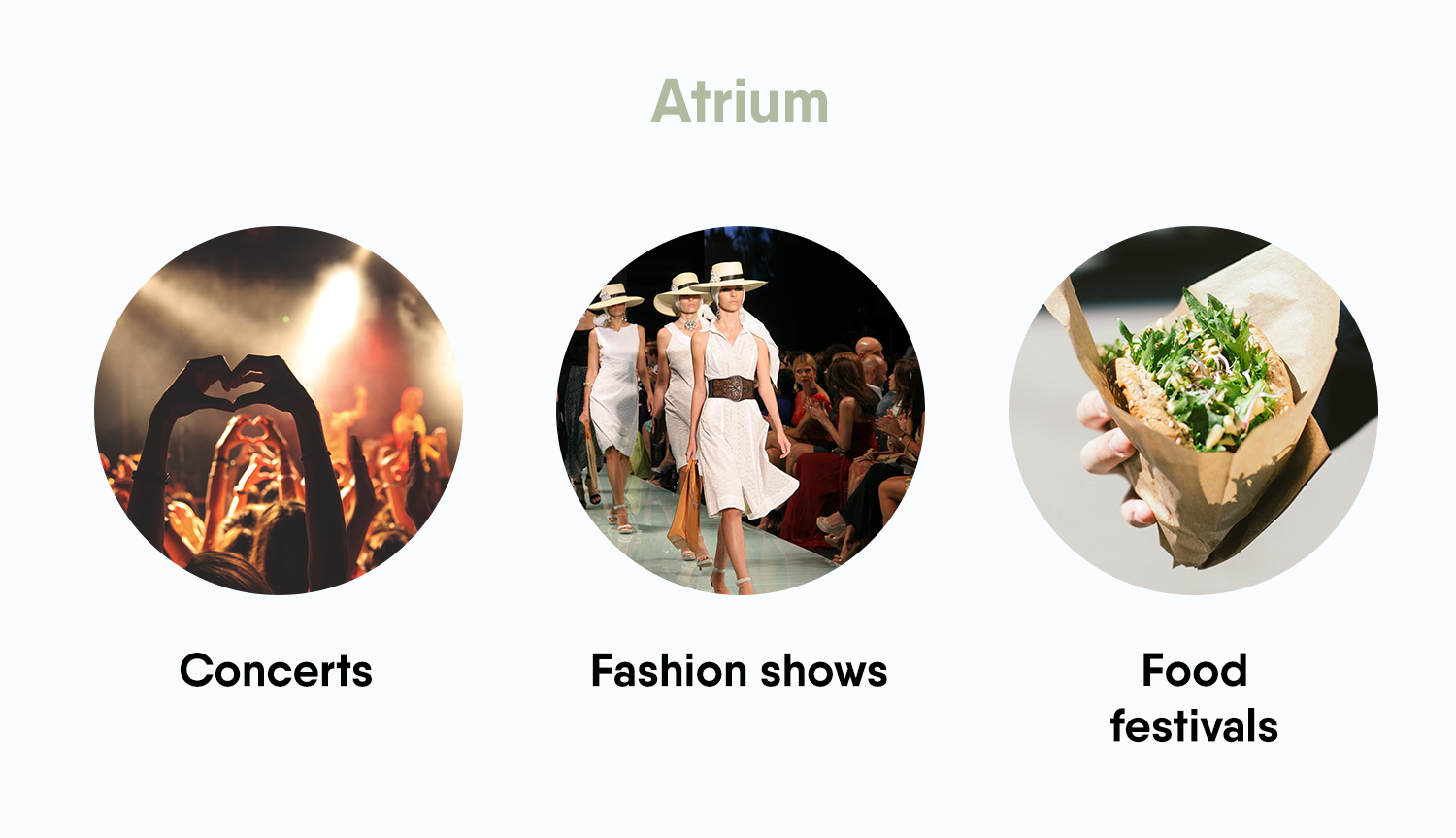 Within its standard operation, the atrium will host a café with a large terrace, a playground, hanging shading elements and mobile flower beds, meaning that the usable area can be extended. Apart from its venue function, the atrium will also serve as a large relaxation zone for all categories of visitors.
2. Meadow
Municipal green zones often look very artificial. Grass carpets and planted greenery are great, but you just don't feel like you're in nature. That's why many people tend to stay away from artificial greenery.
The green roof will provide urbanites with a piece of wildlife thanks to a large blooming natural meadow. It will stretch out on a hill between the station's third and fifth floors, and thanks to a suspended bridge it will connect the marketplace with the higher floors of the shopping centre.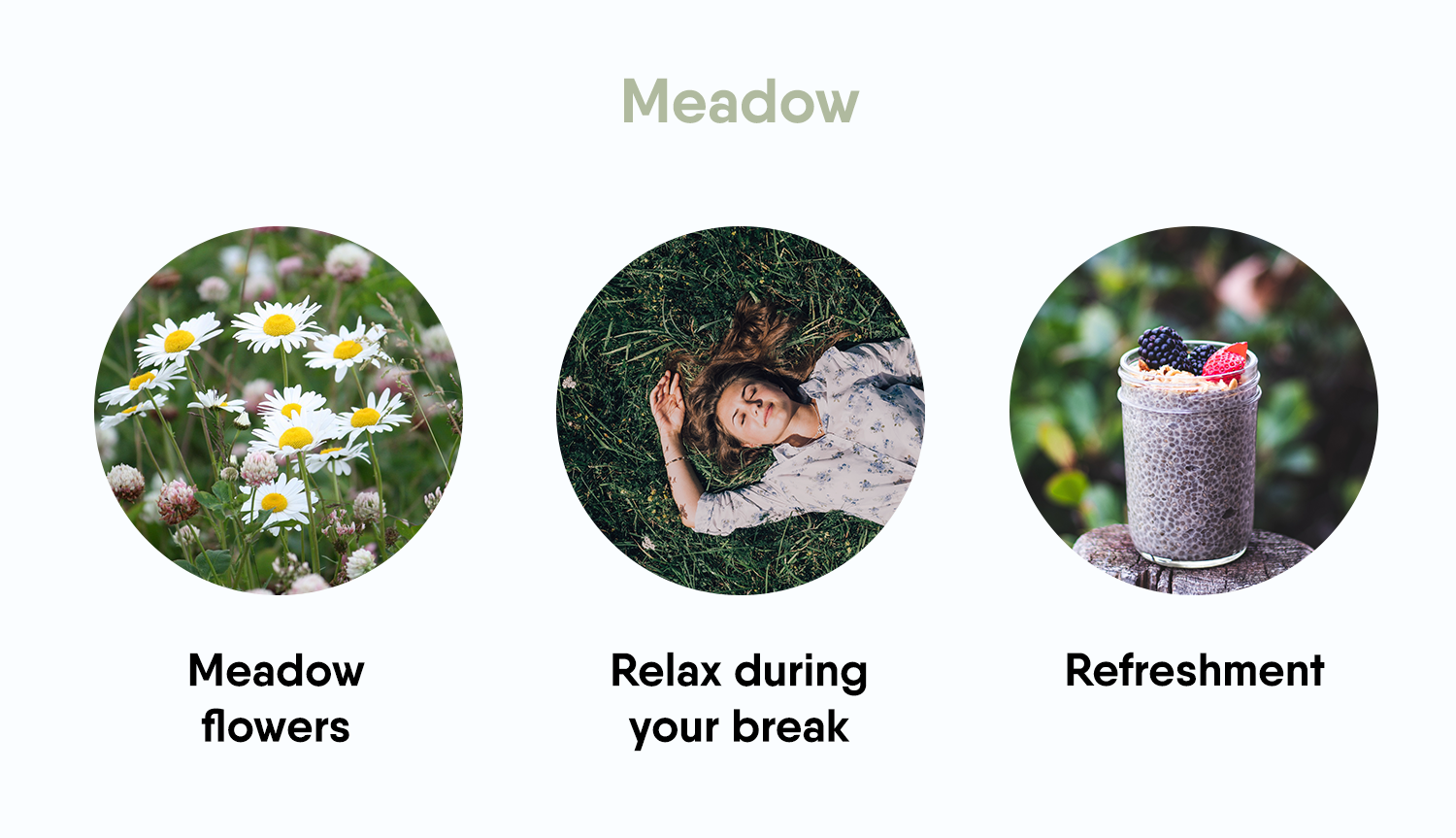 This is a space where visitors can relax and take their minds off problems, which is especially convenient for exhausted employees. On the way here, they can buy a high-quality smoothie, enjoy a cup of coffee and breathe in the smell of meadow flowers. The meadow will become a place to recharge their batteries and five kiosks nearby will help them do that.
3. Central social space
According to urbanists from the European project URBACT, public areas are one of the factors that create conditions for successful retail in a city. They claim that areas designed for leisure activities, terraces, playgrounds, nice views and various types of events attract people who increasingly combine shopping with leisure.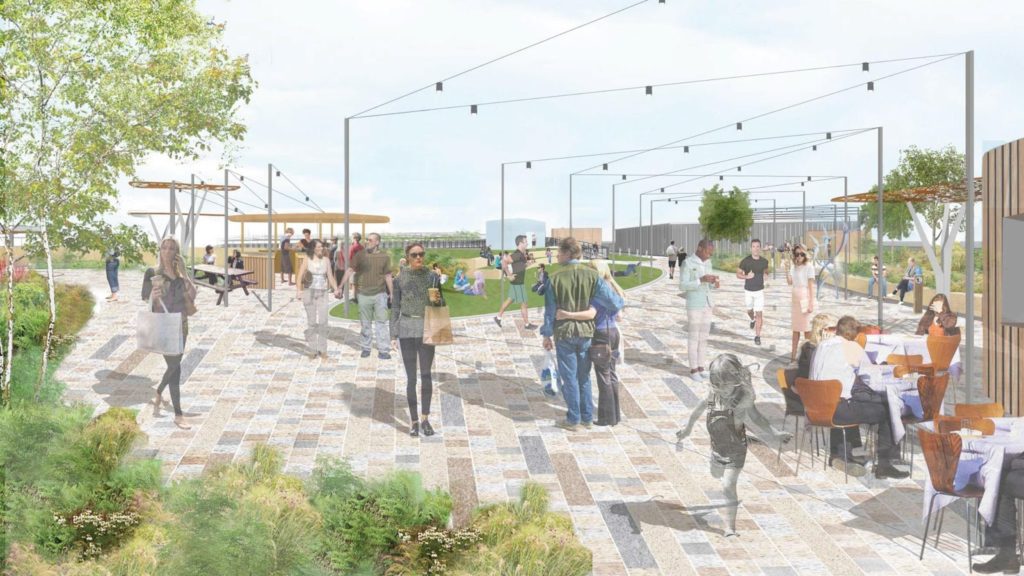 On the upper part of the roof, there will be an area with green grass that's perfect for family picnics. While delicious food is prepared, kids can play in a stone labyrinth, teenagers will appreciate a workout zone and older people can play a game of outdoor chess. If visitors need anything, the shopping centre is just a few steps away or they can use the services of the surrounding kiosks.
Apart from picnics, the central social zone is an ideal venue for competitions, children's animation programs and brand presentations. The space will include a large thematic playground and a smaller water playground which is excellent if kids need to cool down in the summer. Toy shops in the shopping mall will have a great opportunity to test their products such as water guns with kids.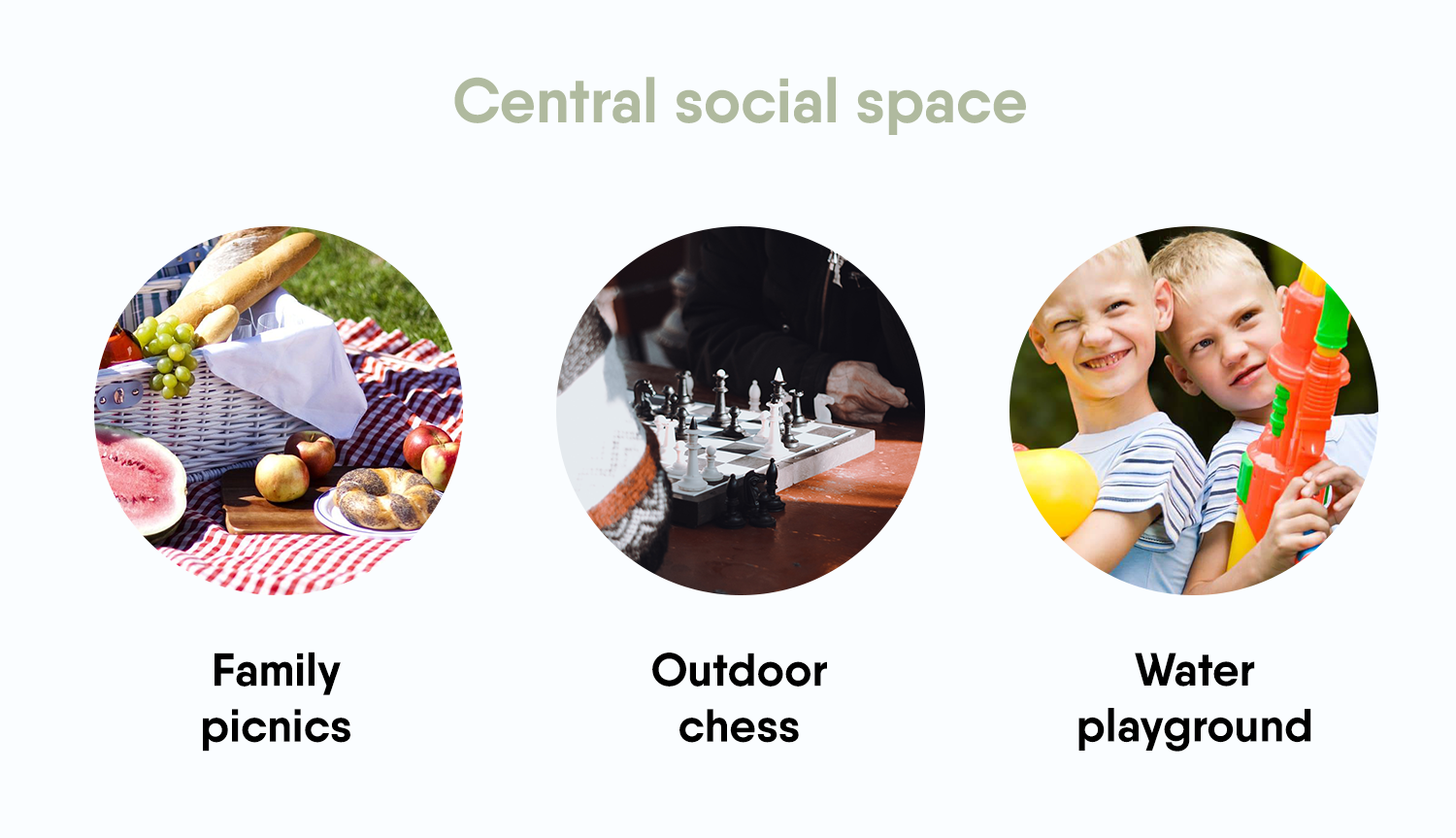 4. Peripheral zones for active relaxation
Employees from nearby offices will be an important group of visitors for Nivy Station. For them, the green roof will be a place where they can have lunch in the summer, do some shopping before going home and, in particular, a place where they spend their work and free time. Zones on the sides of the roof are designed with this group of customers in mind.
The relaxation zone will be equipped with electric sockets in built-in tables so anyone can come work here and create their own office under the sky. More intimate corners will be available for informal meetings and relaxation. If you want to break your work routine and stretch your muscles, you can use the pétanque terrain. In addition, an exit from Nivy Tower leads to the food court mezzanine on the fourth floor. This means that employees working on all 29 floors of the office building will pass through this space on a daily basis.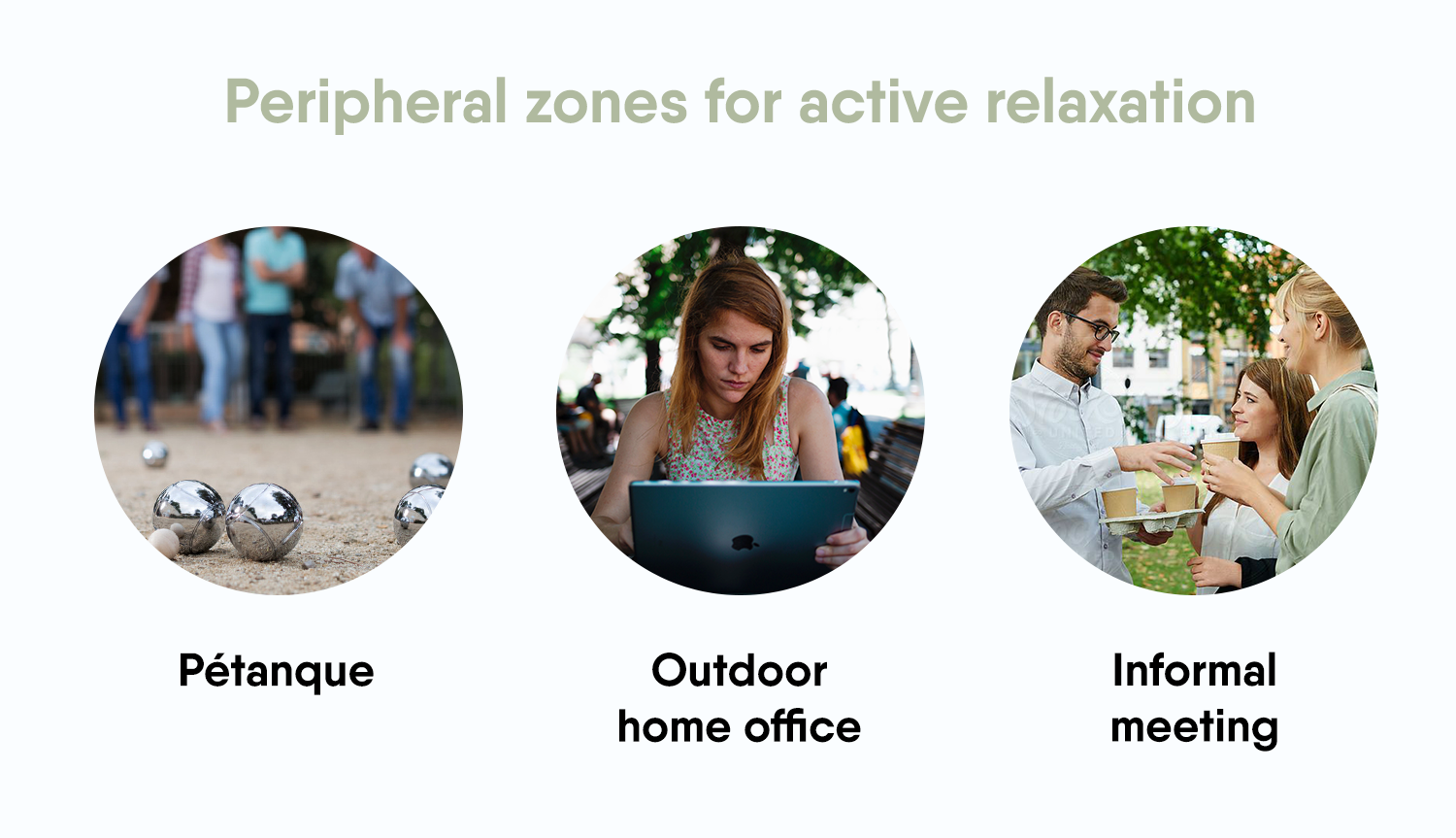 5. Sports and community zone
All fans of a healthy lifestyle will definitely enjoy the green roof. With the combination of sports areas, a community garden and a barbecue zone equipped with electric grills, New Nivy will get a space where neighbourly relations and community are built, which has many benefits for the shops as well.
A streetball court can serve as a venue for neighbourhood tournaments to be organised by one of the sports equipment shops. Personal trainers from nearby fitness centres can show visitors how to use fitness equipment and organise workouts on the terrace. Food and drink producers will also have space to present their products – fresh vegetables from the community garden go perfectly with a juicy steak or any other meal. Warm summer evenings in the city centre can be dedicated to wine or cocktail tastings led by bartenders from local restaurants.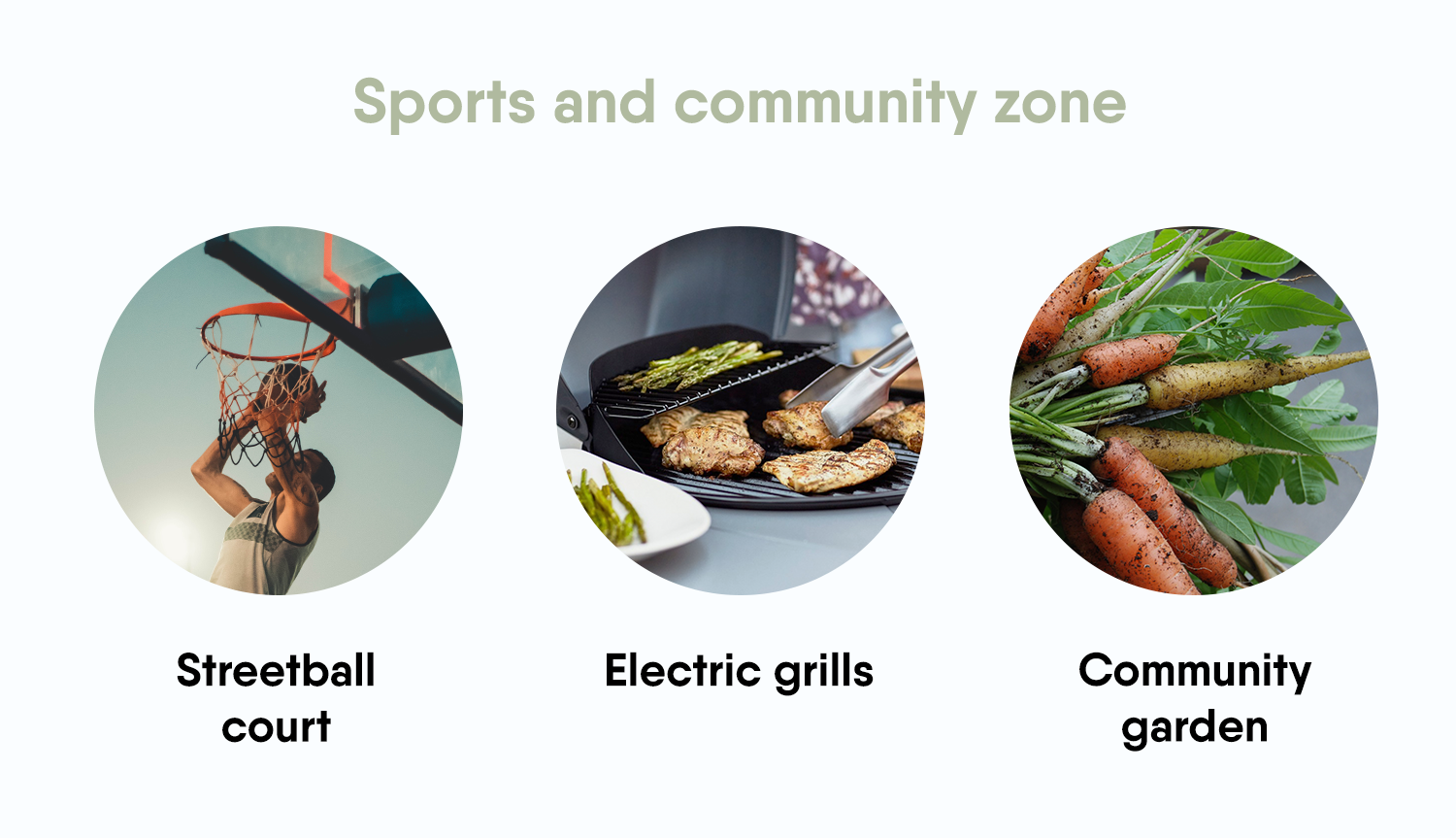 6. Running track and path
According to recent data, jogging is one of the most popular sports activities in the world and its popularity is on the rise. However, it's quite problematic to jog in the centre of Bratislava on the hard surfaces there. That is one of the reasons why there will be a path with 2 lanes around the circumference of the roof – one path will serve as a running track and the other one will be for pedestrians.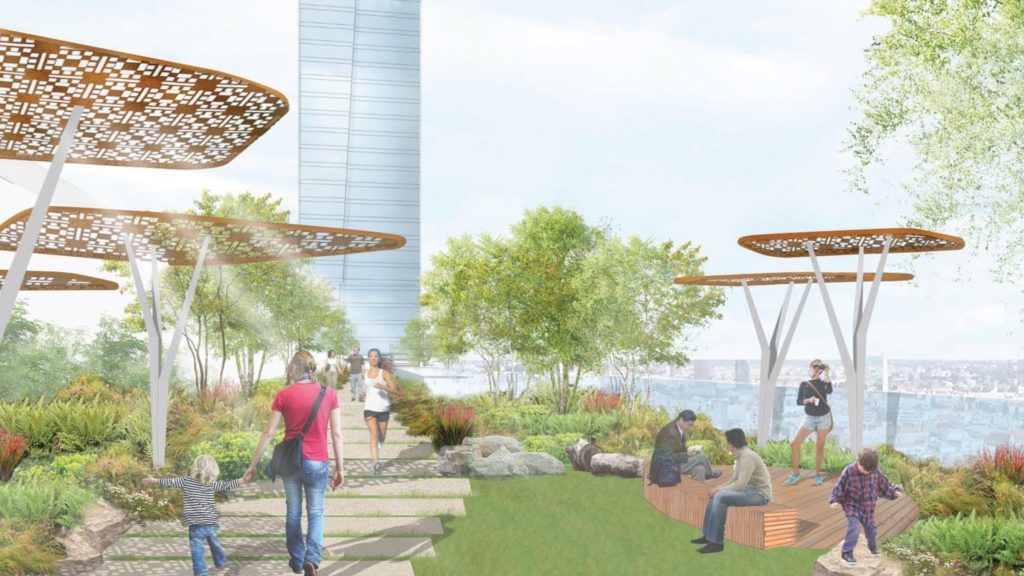 This will create space for running training, races and community sports events. Employees will have the opportunity to go jogging or take a walk after work, before work or during their lunch break.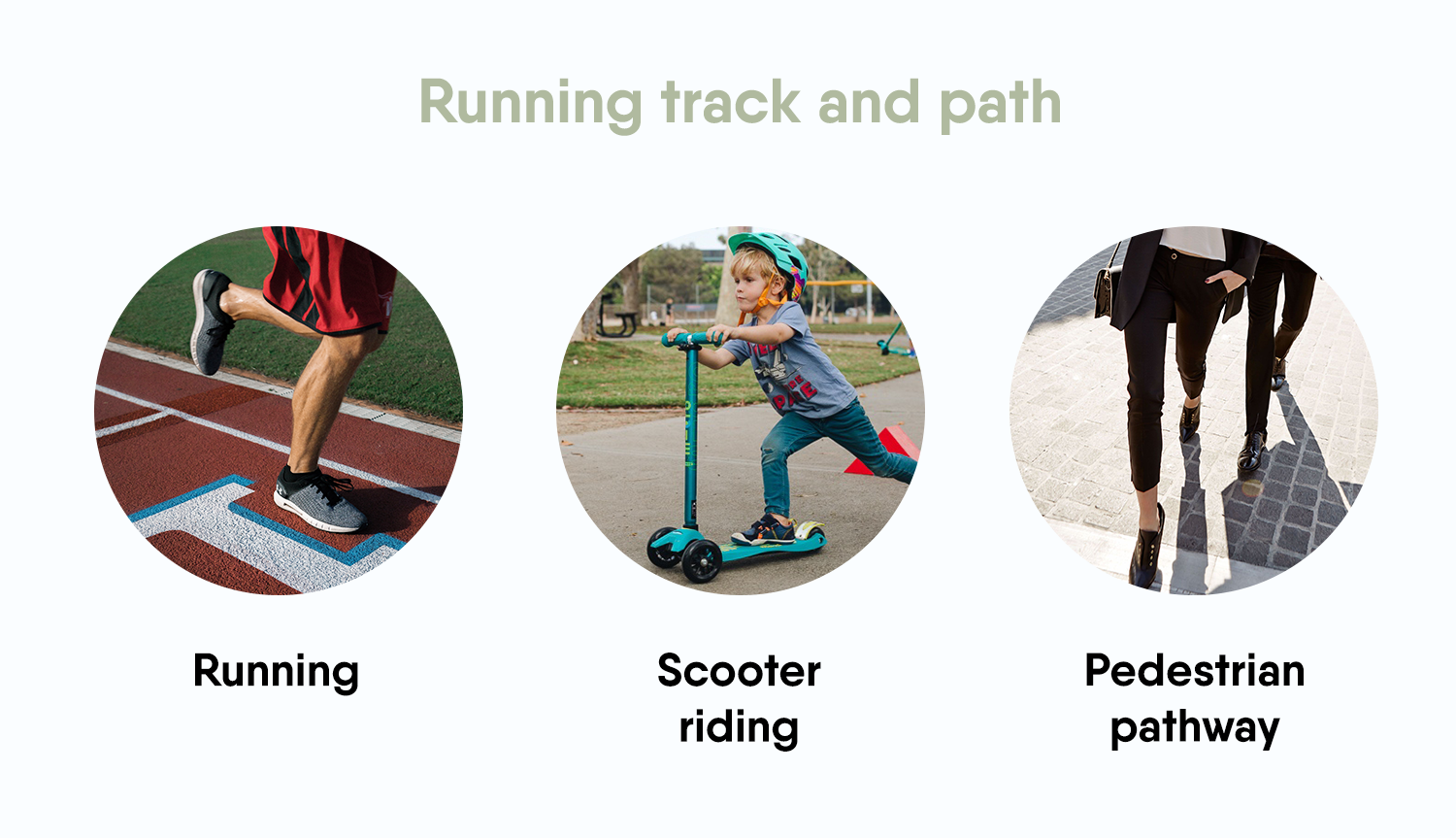 Activities, visitors, possibilities
The green roof will make people take a walk through all the shopping centre floors and motivate even those who do not normally like shopping centres. These are some of the ways that different customer groups might use the green roof:
Shoppers
People who come to Nivy Station primarily to do their shopping can use the green roof to recharge their batteries – drink fresh juice or coffee, relax on the terrace, have a meal or lie on the grass.
Locals will naturally become shoppers who can quickly stop by the shopping centre anytime to buy things they left at home – be it an umbrella if it starts raining, more comfortable shoes or a blanket to lie down on.
Families with children
The green roof's atrium will offer space to organise events for kids, such as children's shows, theatre plays, Children's Days, animation programs, etc. Apart from the atrium, playgrounds can also be used as venues for promotional events. There will also be a wide range of sports and relaxation areas ideal for games, such as streetball, pétanque and golf. There will also be space for community tournaments and family sports days.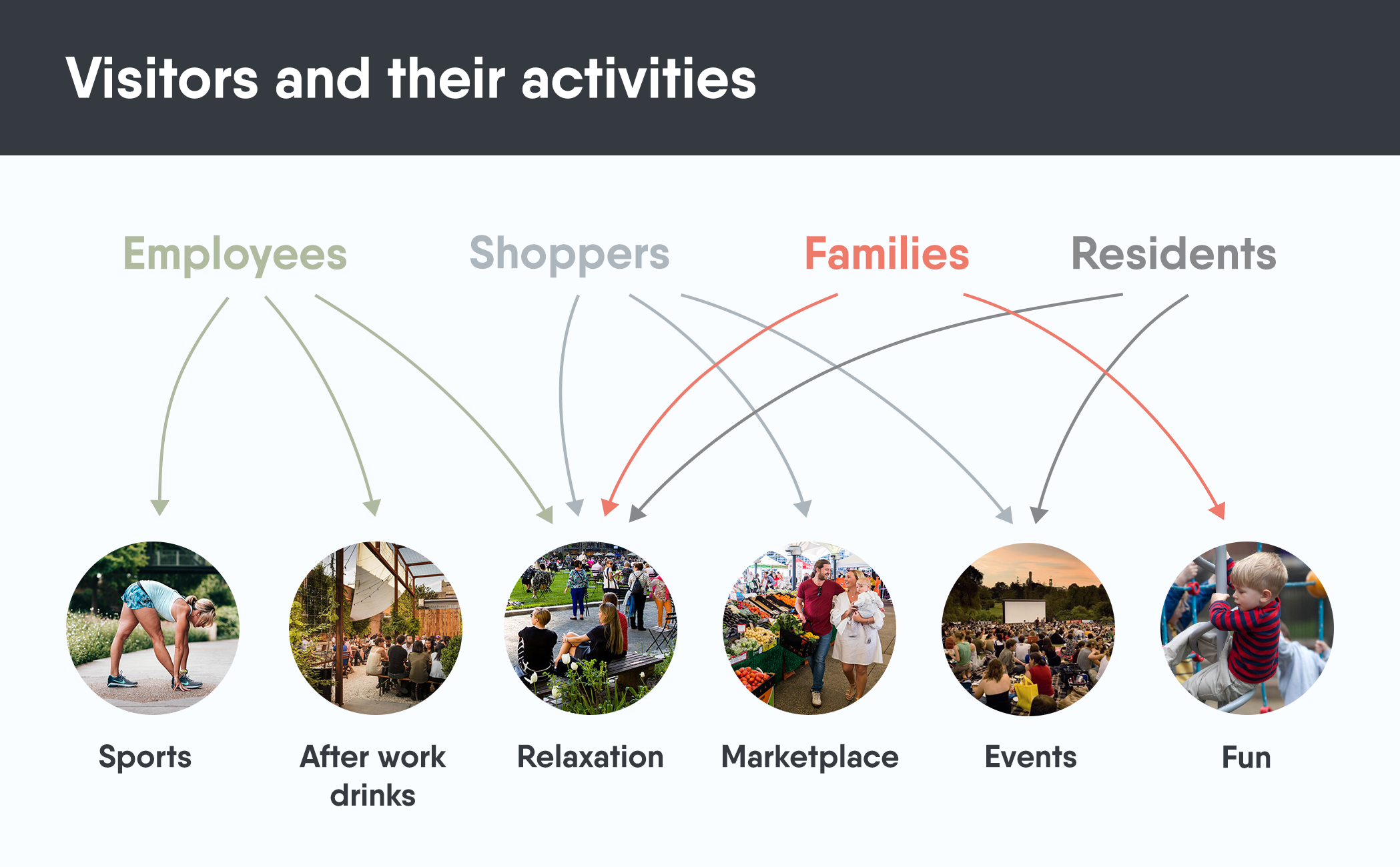 Residents
Locals living in the surrounding areas can use the community gardens and cultivate their own fruit and vegetables. Community areas equipped with barbecue grills are perfect for sales promotion events for farmers, foodstuffs producers and companies operating in the sectors of agriculture, gardening and healthy diets.
Employees
Businesses can use the green roof to organise events for employees, such as sports days, active team building, barbecues and networking events. On sunny days, employees from nearby offices can work in the garden or schedule a working lunch or a meeting in a less formal and natural environment. After work, they will be able to grab a beer with their colleagues or ditch the dark gym rooms and come here to jog, use the climbing wall or stretch their muscles in the fresh air.
Commuters
For bus passengers, the most important issue is finding a place to eat and spend time in a pleasant environment while waiting for a connection. On the roof of Nivy Station, they will find high-quality restaurants, a marketplace and fast food stalls or they can grab a cup of coffee to go and sunbathe. In the meantime, a travel agency could present their offer of coach trips to neighbouring countries.
Tourists
Nivy is an important transportation hub where locals, tourists and visitors of Bratislava will concentrate in large numbers. On the green roof, there will always be an interesting event taking place regardless of the season – exhibitions, concerts, various seasonal events and an attractive cultural program.
If you are interested in attracting tourists, you can organise food festivals, set up regional tourist office stalls or have presentations of our traditions and traditional folk crafts. And all that will be accompanied by excellent gastronomy with regional and international delicacies and beautiful views of Bratislava's modern centre from the sides of Nivy Station's roof.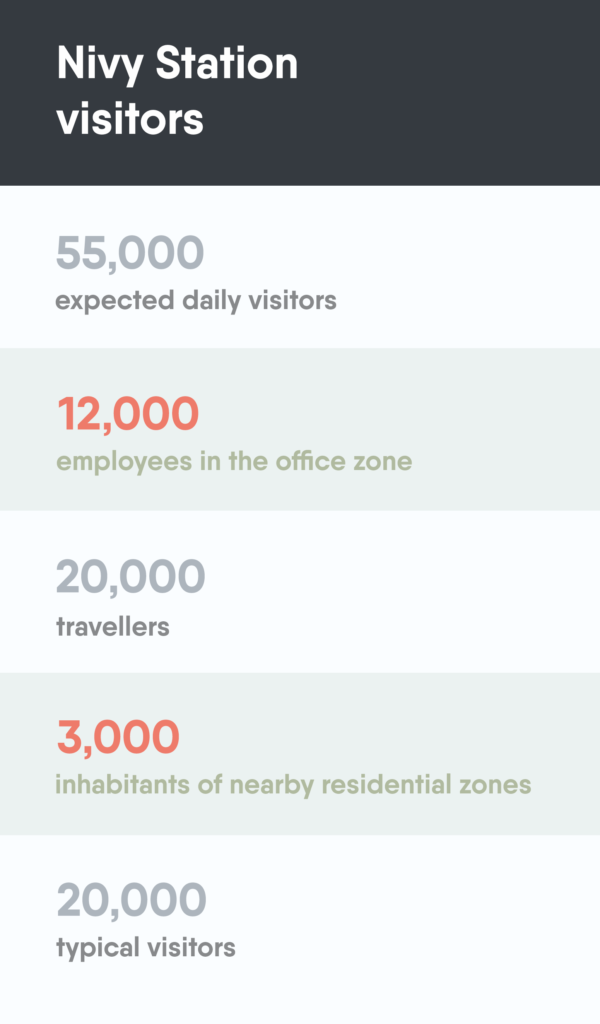 A community destination with business potential
Slovak customers and shoppers are known for their high expectations: they spend much more time in shopping malls than inhabitants of neighbouring countries, but they also expect added value in the form of high-quality space, services and side activities.
Nivy Station's green roof is the answer to all of these requirements. It will become a self-standing community destination in the city, offering dozens of activities for visitors of all ages. Functional zones with detailed layouts, a focus on eco-friendliness, event areas and ingenious solutions designed by top experts will create a social hub that has been missing in this part of the city.
Nivy Station will enrich Bratislava with a combination of public and business areas, which is unseen in Slovakia, with brand new business opportunities. An active green roof is the cherry on top of the entire project, which will provide visitors, passengers, employees and residents a wide range of reasons to spend their time here.